Though the concert series called The Folkey Monkey has been discontinued, Joe continues to do the occasional concert using its format. Be sure to check Joe's calendar for show updates. Meanwhile, here's the FM story.
The Folkey Monkey was  an acoustic singer/songwriter concert series started by Joe Rathburn in 2005. At first a weekly Thursday showcase until 2011, from then on held on the 2nd and 4th Thursdays of each month, each show featured Joe hosting and performing with a guest. They shared the stage and traded songs back and forth all night, jamming as they went. mixing  in cover songs with their originals, each night a theme was chosen by the guest, and they would choose their songs to fit the theme. The themes were either artists to which they'd pay tribute, or topical in nature.

Occasionally, Joe would present an artist in a Folkey Monkey Presents Concert format, simply opening the show, giving that particular artist the bulk of the evening to themselves. Examples of that format were David Wilcox, Susan Werner, Michael Peter Smith, Trio de Janeiro, and Jack Williams.

During a typical Folkey Monkey format night, percussionist Jeff Stasny, and bassist Jim Reeves accompanied Joe and his guest.

Joe discontinued the Folkey Monkey in January of 2022 citing the need to concentrate on other aspects of his career and home life, after a successful 17 year run.
Shows were held at: VISION, 4780 Mission Gorge Place, Suite H, San Diego,  CA  92120. Vision is a Center for Spiritual Living which rents out it's sanctuary for various performing arts events. Contact John Kurko for more information. The room seats 200 comfortably, features a great sound system, nice lighting, and a Yamaha grand piano. A green room and full kitchen are available as well.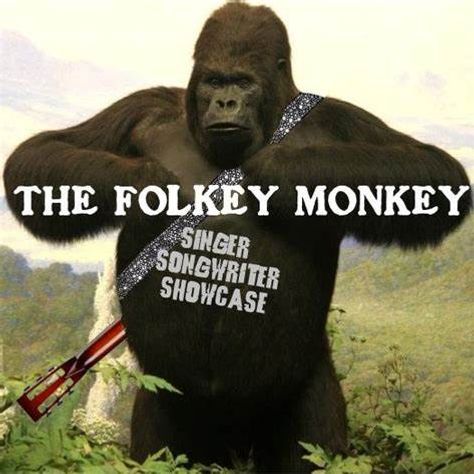 Aside from Vision, Veronica Graciano was an integral part of the Folkey Monkey, managing many tasks such as Facebook promotion, webmaster, box office, and greenroom food and drink. Joe is eternally grateful to both Vision and "Ronnie" for their help. By the way, the Folkey Monkey "guitar gorilla" image, above, was created by Ronnie.

Below you'll find pictures of past Folkey Monkey evenings. Be sure to visit the Welcome Page to sign up on Joe's mailing list to find out where he's currently performing.